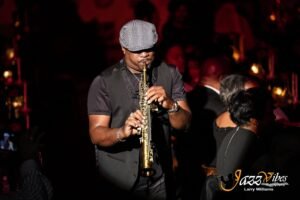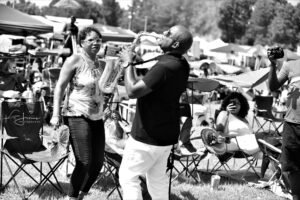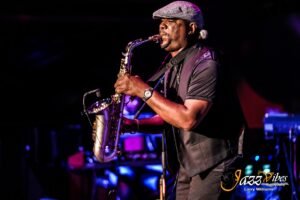 WHO IS TEJ
National recording artist Thomas "Tony" Exum Jr. is a contemporary jazz, R&B and funk saxophonist, songwriter and performer with a sultry and soulful sound. In 2019 Tony released his single "My Name's Tony" receiving national airplay, charting on the Smooth Jazz Network top 100 chart for several weeks. In addition, the My Name's Tony Spring/Summer 14 city tour, included performances at the San Diego Smooth Jazz Festival in San Diego, California, Spaghettini's in Long Beach, California, The Soiled Dove Underground in Denver Colorado, Jazz in The Park in Prattville, Alabama and the Winter Park Jazz Festival in Winter Park Colorado to name a few.
Tony is taking 2021 to new heights musically and professionally with an unrestrained passion and impeccable work ethic that is second to none. Performances in 2021 already include the 30th Annual Berks Jazz Fest and the 2020 Jazz Legacy Foundation 8th Annual Gala Weekend with more to be announced soon. Tony's catalog consists of two critically acclaimed albums, "Finally" and "The One" and now he is back in the studio working on his third project "Rhythm and Smooth Vol 1." featuring #1 Billboard Smooth Jazz artist Vandell Andrew, Emanuel DeAnda, Singer/Songwriter/Producer and former lead for R&B group Pretty Ricky, #1 Billboard Smooth Jazz legend Tim Bowman, chart topping/award winning producer-guitarist David P. Stevens, Teri Tobin and more.
Beyond work as a recording artist Tony has embarked on a career in radio hosting on Colorado Springs FM Station Jazz 93.5 FM with over 20 hours per week of on-air time. In addition, Tony entered a business venture in late 2019 with Kas'tell Vodka as their Global Brand Ambassador. Tony's first flim role will commence in 2021 as "Brother Vonner" in the indie film Behind Church Doors (www.behindchurchdoors)
NOTEWORTHY
Performed with Gerald Albright, Marcus Anderson, Eric Merienthal, Jackiem Joyner, Eric Darius, Euge Groove, Najee, Nick Colionne, Julian Vaughn, Adam Hawley, Elan Trotman, Blake Aaron, Brian Lenair, Deon Yates, Phillip 'Doc' Martin and Paula Atherton. Opened for R&B artists The Delfonics, Denise Williams, Rose Royce, Dennis Edwards and The Temptations Review and Jeffrey Osborne. Performed with Norman Connors, KeKe Wyatt, Sunshine Anderson, Kelly Price, Actor/Singer Leon, The Temptations, The Four Tops, The Chi-Lites, The Manhattans, Miki Howard, Dave Hollister, Silk, Donell Jones, Aysha Webb and Gail Jhonson.
PAST PERFORMANCES

Boscov's Berks Jazz Fest-Reading, PA
Middle C- Charlotte, NC
Roland's Smooth Jazz Getaway-Melbourne, FL
Chandler Center for the Arts-Chandler, AZ
Jazz Legacy Gala-Hampton, VA
• San Diego Smooth Jazz Festival – San Diego, CA
• Winter Park Jazz Festival – Winter Park, CO
• Jazz, Funk R&B and Wine Festival – Prince George County, MD
• Jazz On The Creek Festival – San Diego, CA
• Atlanta Smooth Music Festival – Mableton, GA
• Sedona Jazz on the Rocks Festival – Sedona, AZ
• Catalina Island JazzTrax Festival w/Julian Vaughn – Catalina Island, CA
• Blues Alley – Washington, DC
• St James Live – Atlanta, GA
• Yoshi's – Oakland, CA
• Yoshi's – San Francisco, CA
• Humphreys Backstage Live – San Diego, CA
• Spaghettini's – Seal Beach, CA
• Greenwood Cultural Center – Tulsa, OK
• Perfect Note, Birmingham – AL
• Soiled Dove Underground – Denver, CO
• House of Blues – Houston, TX
• Adams County Music Festival – Denver, CO
• Brown Theater (Wortham Center) – Houston, TX
• JW Marriott Desert Ridge Jazz Festival – Phoenix, AZ
• City Tavern w/Vandell Andrew – Dallas, TX
• Herb Alpert's Vibrato Jazz Grill – Los Angeles, CA