Saxophonist Tony Exum Jr. Releases New Single "Don't Run From Love" feat. Vandell Andrew | LISTEN!
Tony Exum Jr. invites fellow saxophonist Vandell Andrew on his latest contemporary jazz jam, "Don't Run From Love"
When two saxophonists combine their soulful jazz talents in one studio settings, the results can be just as riveting as an engaging, powerful vocal duet. Though Tony Exum Jr. continues to get his musical feet wet as a recording artist, his passionate performances have been captured throughout several coast to coast jazz festivals and alongside Gerald Albright, Miki Howard and many others. Recently, Exum, Jr. adds Vandell Andrew to that growing musical family.
Following up with his breakthrough single, "My Name's Tony," Exum, Jr. and Andrew link up for a track off Exum, Jr.'s upcoming CD, Rhythm and Smooth, Vol. 1. "Don't Run from Love" completely focuses on the tenor and alto saxophone interchanges while creating their own adlib space. The soundtrack of synthesizer drops and percussion drips perfectly frame yet never overtake the sweet canvas created by Exum, Jr. and Andrew. While we wait for Rhythm and Smooth, Vol. 1, quiet storm radio formats should keep their ears peeled for "Don't Run from Love."
Peggy Oliver
The Urban Music Scene
After years as indie musician, longtime popular Colorado Springs jazz musician gets record deal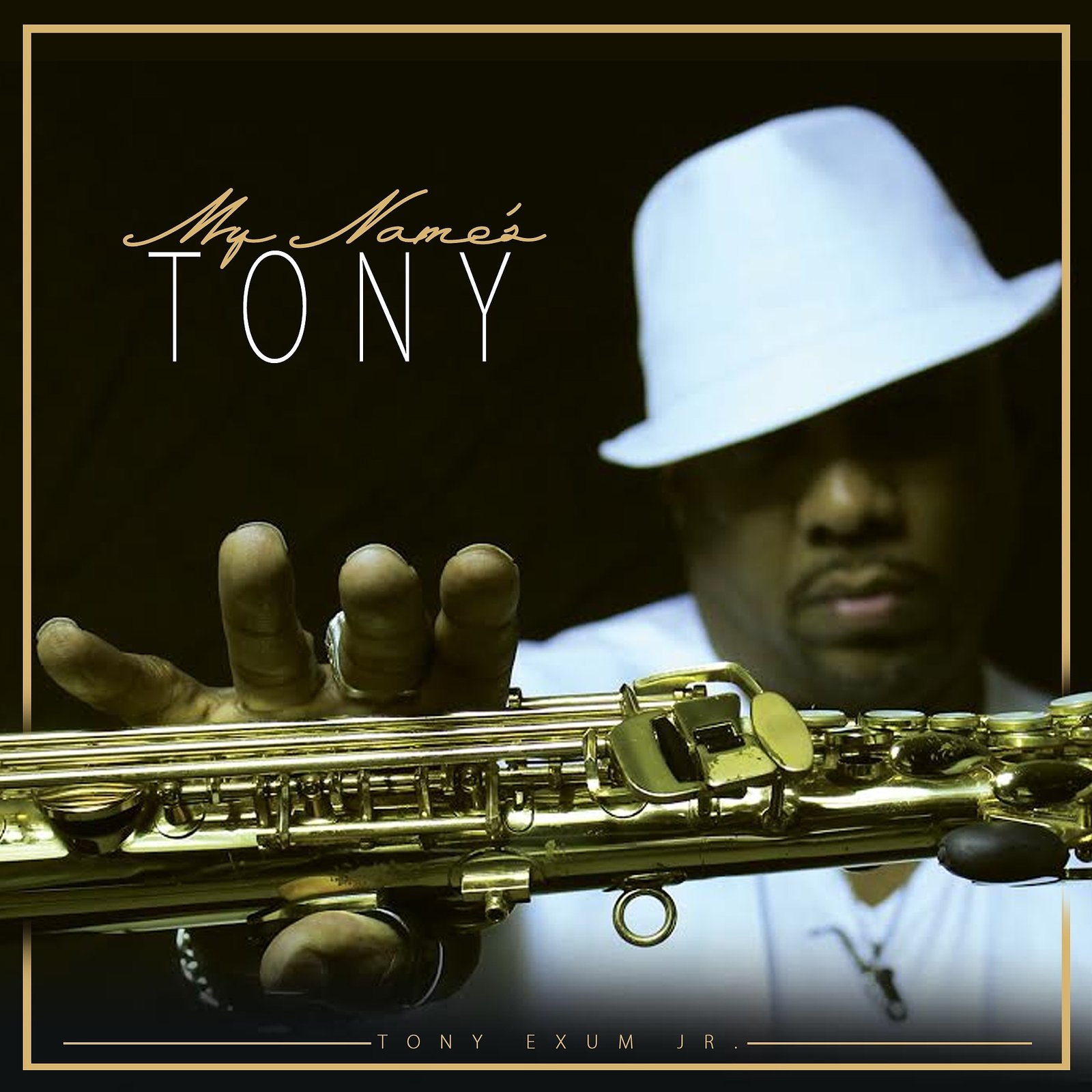 Jazz Saxophonist Tony Exum, Jr. Releases New Single "My Name's Tony" | LISTEN!
Contemporary Jazz artist Tony Exum, Jr. generates grooves galore on his latest single, "My Name's Tony"
Available NOW on Amazon!
There is smooth jazz and then there is smokin' jazz. Veteran saxophonist Tony Exum Jr. never holds back once he starts blowing, always staying cognizant of the grooves behind him. At least that is the case for Exum Jr.'s latest single, "My Name's Tony," decorated with fully fired up saxophone riffs, though he masters all the improvisation with the greatest of jazzy ease. For those more familiar with Exum Jr.'s body of work, R&B attitude resonates throughout his music and "My Name's Tony" stays true to form.
With an old school soundtrack courtesy of keyboardist Greg Manning, multi-instrumentalist/producer Joel Del Rosario and drummer Eric Valentine, "My Name Tony" undeniably engages the ears. The Colorado native has opened for The Temptations, WAR and Lenny Williams to name a few, but his critically praised debut in 2010, Finally!, finally unlocked the key to a national solo platform with appearances in several top jazz festivals. My Name's Tony is further proof that Exum, Jr. remains a wow factor since that day for the contemporary jazz market.
Check out Tony Exum, Jr.s' latest single "My Name Tony," which is now available on most digital outlets.
Peggy Oliver
The Urban Music Scene
"… all of the ladies say "Hey" when he drops his intoxicating harmonies. Mr. Exum's sophomore release, "THE ONE", in 2012, has picked up major traction all over the 'net and radio airwaves. As for T.U.M.S. players, they'd personally like for you to listen to one of his more passionate compositions from this album entitled, "Your Eyes, Your Lips, Your Smile.", produced by bassist Julian Vaughn, another guy on the cusp of major stardom.
"Every track on "The One" exceeds expectations and is sure to please all of his fans. It screams with a sense of purpose and intensity and will instantly grab new listeners."
Carla Maniscalo – Mile High Music Notes
"Granted, smooth jazz isn't exactly a staple of your friendly neighborhood Reverb column, BUT when it comes to top-flight jazz musician, Tony Exum, Jr., even our most hard-edged punk, metal, and hip-hop friends must acknowledge that the man is a consummate musician. Mr. Exum's latest release features guitarist Tim Bowman, and saxophonist Marcus Anderson, performing a set of the saxophonist's seductively soulful originals. There's also a mellifluous cover of New Edition's late-'80s ballad "Can You Stand the Rain," featuring Terrill Paul (aka Rellion), who sings backup vocals for Bobby Brown, and the newest member of the popular  90's R&B Group, Troop.
Bill Forman – Colorado Springs Independent
"She, Aysha, was accompanied by a flavorful sax player, Thomas "Tony" Exum, Jr., who played each note like his rent was due."
Galaxy – connectingthadotz
Tony Exum, Jr. delivers a strong, R&B-heavy debut; and as far as smooth jazz saxes go, this is an album that is relaxing, and at the same time, intricate enough to make you rewind and listen twice."
Katherine Gilraine – The Index
"It's not often that you experience such a tranquil seductive sound that offers originality with a touch of similarity. Tony manages to combine the familiar sounds of George Howard, break it down and create a mind-blowing masterpiece that combines the style of a legend with the new artistry of "sax-full bliss".  His song entitled "Don't Worry Bout a Thang" is beyond stimulating, but every song on this cd is absolutely perfect. A Masterpiece! "
DeAnna Phillips – 
"Refreshingly funky, yet measured and controlled in that soulful; and driven kind of way that is so reflective of much of today's, and even a lot of yesterday's smooth jazz.  Sax man Tony Exum, Jr. steps forward to toss in his own pizzazz in the form of a quality debut production entitled "Finally" (a very telling title indeed). While compared in some ways to the late great Grover Washington, the late great George Howard, and the young, gifted Jackiem Joyner, this artist certainly carries enough firepower to ignite his own identity with no problem whatsoever."
Ronald Jackson – The Smooth Jazz Ride
"We LOVE Tony Exum, Jr's eclectic, fantastic & electric (i.e. diverse, amazing, & hot) track titled "Give It To Me"!  Tony is featured on our artist page, and is a part of our Smooth Playlist!
Listen here at www.ussmoothjazz.com."   via facebook
"The debut CD of Saxophonist Tony Exum Jr. FINALLY is a disc that encompasses all elements one would expect from the sax man, combining a bit of funk with plenty of contemporary jazz. The record is thematic and consistent throughout. It brings a different kind of energy from that of many c-jazz discs of today. FINALLY contains soulful sax melodies, hard drums, and bass grooves that give the disc its definite and unique urban jazz feel. Noteworthy cuts include: Sweet Conversations, an upbeat classic-jazz cut, "4 on the Floor," that will put a groove in your step, and "Music in Me" both thoughtful and insightful."
Elaine K. Miller – Urban Jazz News Finally CD Review
"You can't help but compare to Grover Washington, Jr., George Howard, or David Sanborn; they show up in mentions of Exum everywhere you look online, but I'd like to add my own. If you like the heavier funky side of jazz, not just the high soaring soft melodic sax overlays you get with many straight tenor-sax type jazz, the funkiness ala the Yellow Jackets, or maybe the up-tempo Spyro Gyra songs like "Heliopolis" or "Jubilee", or if you're old enough, think Tom Scott and the L.A. Express – you will LOVE this album!"
Butch Leitz – The Soundboard, Gazette